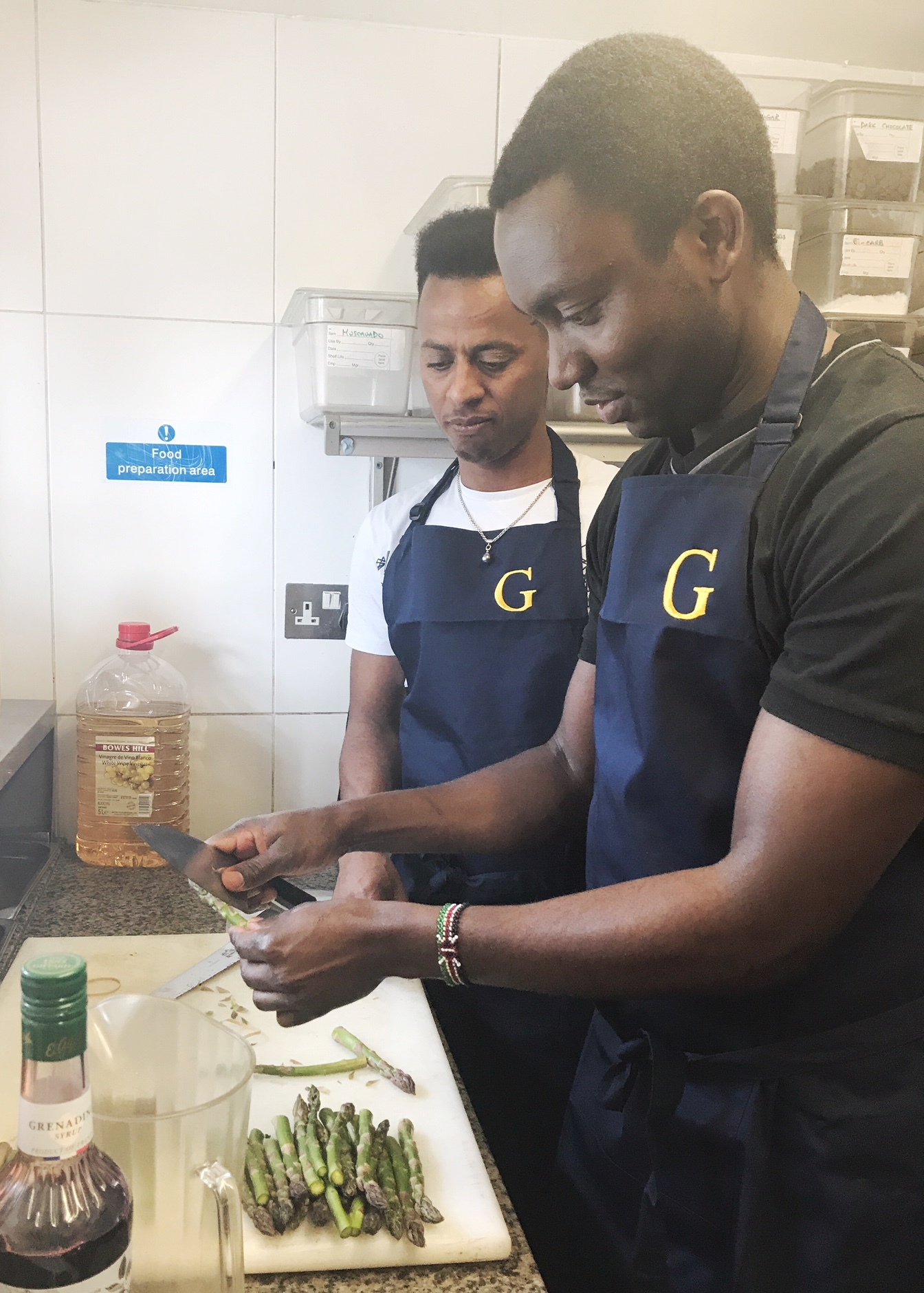 There are many reasons that George's Dining Room & Bar in Worsley holds such a special place in our hearts. Not just because of the gorgeous leafy location, or the delicious (Foodinated) food, or even because they were our very first restaurant partner when I initially started Foodinate; but because they care – and because they go the extra mile to prove it.
George's, co-owned by footballing legend Ryan Giggs, is our longest-standing restaurant partner, generating thousands of meals for those in need in the community - and we couldn't be prouder to have them as a founding member of the Foodinate family.
So, this week, in true "going over and above" fashion, they welcomed a team of volunteers and visitors from the Booth Centre, a day centre supporting homeless people and those facing poverty in Manchester, and one of the centres Foodinate supports to serve hot, nourishing meals for their visitors.
On Wednesday, George's invited four people from the Booth Centre to experience life in the kitchen at George's whilst supporting the Booth Centre's catering training programme, helping people develop skills and confidence to gain work in the catering industry.
Urbanus Kinuthir and Megos Haile, who are both kitchen assistant volunteers at the Booth Centre, joined Head Chef Joe Mcleod in the George's kitchen to prepare the Foodinate-selected dishes for their fellow Booth Centre visitors. Barry Lundy, Kitchen Supervisor at the Booth Centre was served alongside kitchen assistant volunteer Simon Ewiwilem.
George's have three Foodinated dishes on the menu – a starter of Spring Pea Soup, the main course Chalk Stream Trout and Duck Egg Crème Brulee dessert. When a diner orders one of these dishes, a meal can be served for a person in need at the Booth Centre.
Urbanus and Megus learnt how to fillet and debone a whole trout, produce a citrus mayonnaise and make the pea soup from scratch. Vital skills that can be taken back to the kitchen of the Booth Centre and presented to their visitors, ensuring they are offered a nutritious and varied menu.
Booth Centre kitchen supervisor Barry was pleased to have a day off! He said: "It was great to be able to visit George's, see how their kitchen works and the efforts behind preparing their Foodinate dishes. Urbanus and Megus did a fantastic job and I was more than happy to sample their creations!"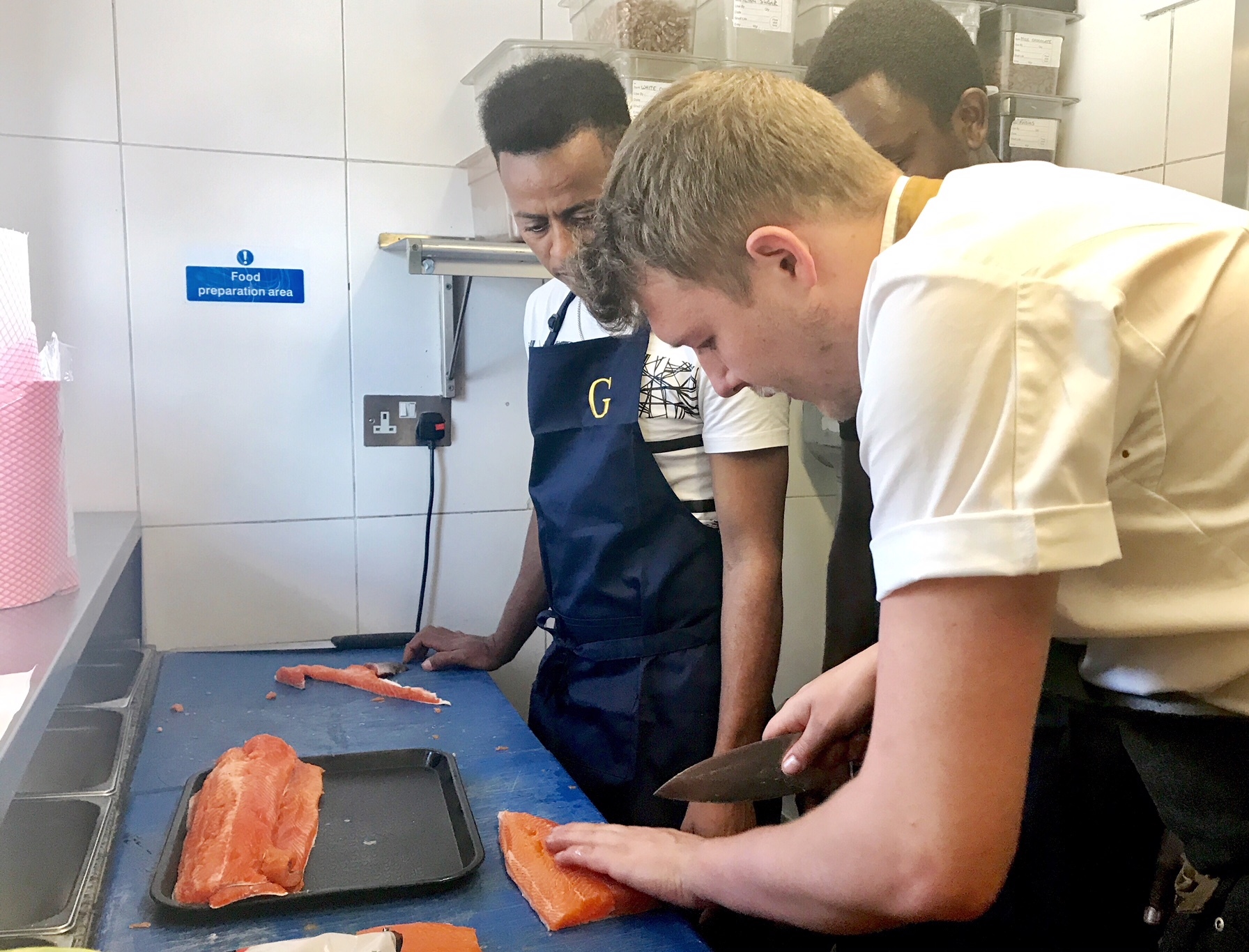 Meanwhile, Head Chef Joe felt grateful to be able to help the Booth Centre and highlight the work of Foodinate. He said: "It's so important for us at George's to give back to the community and demonstrate the hard work of the volunteers at the Booth Centre. Having the guys in the kitchen making the Foodinate meals is an ideal way to pass on our skills and experience and I hope they will be able to use what they learnt for many years to come."
Co-owner Ryan Giggs also spoke about the visit, adding: "I'm so pleased to be able to offer the Booth Centre our support, through Foodinate and our loyal customers we have donated thousands of meals to those in need. The guys did a great job in the kitchen today and we know where to look when we're next recruiting!"
Watch this space!